We are very excited to share this vibrant and luminous original painting:
This unique and one-of-a-kind Deb Chaney modern art piece is predominantly red coloured, also reminiscent of scarlet, vermilion, ruby red, cherry red, and wine, are colours associated with confidence, courage, and action.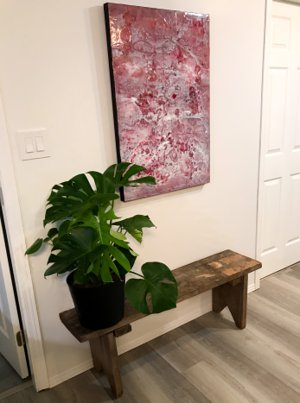 Placing original artwork intentionally in your home as a tool for its staging for sale, or to settle in and make it really feel like your own home, is a powerful way to create and elevate your home from ordinary to extraordinary.
'Vermont in a Snowstorm' is a 24" x 36" x 1.5" multi-layered painting of mixed media on canvas, inspired by Helen Frakenthauler's colour field painting combined with transparent layers of modern gloss mediums that add to its luminosity and texture which gives it a modern aesthetic.
Deb Chaney is a Gabriola Island local mixed media contemporary abstract artist that has been featured in magazines and on television. Self-taught, she began her artistic journey over a decade ago by taking a number of workshops with artists whom she admired and has never looked back. Her artwork is seen in Vancouver as a large-scale public art installation, on the sets of Netflix TV shows and in corporate collections such as the Hilton Hotel.
Follow Deb on Instagram:
@debchaneyartist
See more of her work:
Come and see this beautiful original painting now displayed at our office located at:
102-5170 Dunster Rd, Nanaimo
You are welcome to view this painting during business hours:
Monday - Friday 9AM - 5PM
Purchase inquiries please contact:
Monique Kassinen
(250) 591-1160